Islamabad (Web Desk): Supreme Court to resume hearing on Naqeebullah Mehsud killing case today.
A three-member bench of the Supreme Court will resume hearing shortly.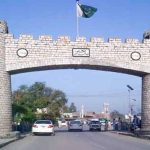 The apex court granted an additional ten days to IG AD Khawaja to arrest suspended Malir SSP Rao Anwar in the extrajudicial killing case. IG Khawaja requested assistance from intelligence agencies for Rao Anwar's arrest in its previous hearing,
The chief justice approved the request and directed the Inter-Services Intelligence, Military Intelligence and Intelligence Bureau to provide their "complete support" to the Sindh Police.
Read more:
Naqeebullah Mehsud was a 27-year old native of Waziristan was among three others who were accused of being terrorists and killed by police in what was later termed a fake encounter in Karachi on January 13.