Lahore (Web Desk): An anti-terrorism court (ATC) handed down a death sentence on four counts to culprit Imran Ali in the rape and murder case of minor Zainab today.
ATC Judge Sajjad Ahmad announced the verdict at the Kot Lakhpat Jail, where Imran Ali is held on remand.
Security has been increased in and around the central jail and the movement of everyone going in and out of the jail is being monitored.
Muhammad Amin, while speaking to the media, demanded that the prime suspect in the rape and murder case of her daughter should be stoned to death.
Amin said the culprit should be handed down an exemplary punishment so as to prevent recurrence of such incidents in future.
He said it was because of Chief Justice of Pakistan Mian Saqib Nisar's special interest that the case was being taken to its logical conclusion at such a pace.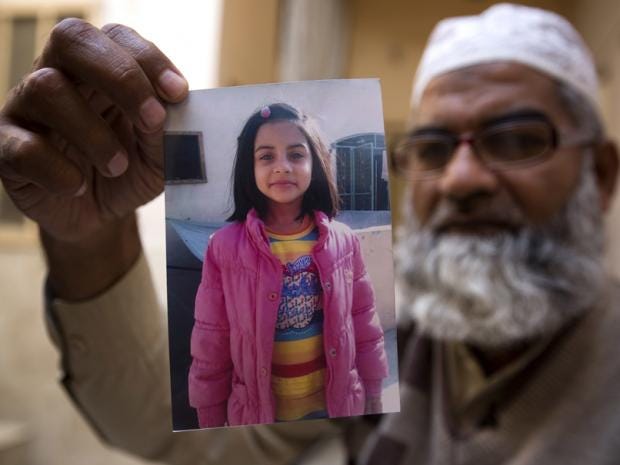 On Wednesday, the lawyer representing Imran Ali, the prime accused in the rape and murder case of seven-year-old Zainab, withdrew from the case, saying that after the suspect's confession, his conscience cannot permit him to represent a hardened criminal.
Zainab, who was kidnapped from near her aunt's house in Kasur on January 4, was found dead in a garbage heap five days later.
Following Mehr Shakeel Multani's withdrawal on Wednesday, Punjab Prosecutor General Ehtesham Qadir assigned Imran a government lawyer, Mohammad Sultan.
A total of 36 witnesses have recorded their statements in the case so far, including Zainab's paternal uncle and five-year-old brother.
Imran's statement is expected to be recorded on Thursday after the statements of all the witnesses have been recorded. Ehtesham Qadir is assisting the ATC as per the orders of the superior courts.
A total of 56 witnesses have been named in the case.
On Monday, ATC indicted and formally charged Imran Ali in the case.
The lawyer for Imran Ali, in an earlier hearing of the case, claimed that his client could not be convicted merely on the basis of a DNA test.
"DNA tests have no value in the eyes of the law. There is no other evidence against my client either," the lawyer said during the hearing of the case at the anti-terrorism court.
The lawyer went on to claim that Imran Ali is innocent, adding that "people cannot be sent to jail just because Punjab Chief Minister (CM) Shehbaz Sharif wants them behind the bars".
Read more:
Zainab murder case: Accused 'Imran Ali' on 14-day Police remand
Multani told AFP, "The police have levelled baseless and false allegations against my client."
Imran Ali pleaded not guilty to the offences against seven-year-old Zainab Fatima Ameen in the Punjab city of Kasur last month, said defence lawyer Mehr Shakeel Multani.